Museum News
Many exciting talks are scheduled this fall. See our Calendar in this issue or visit our website. But before you head out to an event, call 212-425-1778 to confirm the location. Gallery renovations will be starting soon. Updates will be posted at http://www.frauncestavernmuseum.org.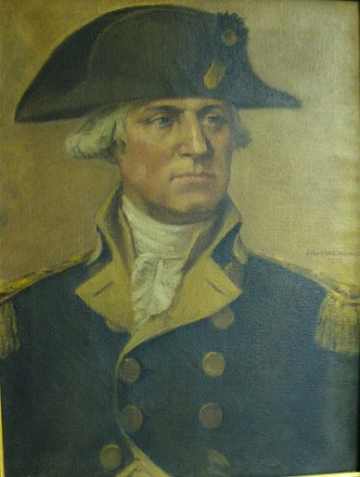 photo courtesy of SRNY
We are happy to report that the Dunsmore Conservation project is going well, with more than 30 paintings conserved to date. However, we are still in need of your support. This month, we call to your attention "General George Washington (with hat)," number 1936.2.37, and "General Henry Knox," number 1936.2.38. The conservation price for each is approximately $3200. If you would like to contribute to this worthwhile effort, please call Museum Director Amy Northrop Adamo, 212-425-1778, ext. 3, or email 2director@frauncestavernmuseum.org. Your generosity will be greatly appreciated.
photo courtesy of SRNY
Education
Jennifer Patton, Education Director, reports that fall will be busier than ever! Classes are already booked for almost every day until the December holidays. Many teachers now call far in advance to make reservations for our increasingly popular collaborative program with Federal Hall in the spring. So, with new powder horns, tin lanterns, and freshly sharpened pencils in hand, our docents are ready to enthusiastically welcome thousands of children to the museum.
During mid-September, many new and returning docents attended our annual fall breakfast meeting. This planning session also gave us a chance to greet both new and familiar faces. Alice Soderburg, who is returning to volunteer for her fourth year, commented, "Probably the last time I saw Bob [Santariello] was at the breakfast last year!" Given their active lifestyles, most of our docents usually volunteer on a specific day of the week. "Even though I am fortunate to see them all weekly, many may go months, if not a whole year, without seeing each other," Jennifer commented. "The breakfast was a great opportunity to catch up on recent vacations and summer adventures. We shared personal reflections about last year's school program, which everyone agreed went extremely well."
According to their evaluations, visiting classroom teachers thought so, too. Since September 2, a few school groups have already visited us; one teacher who plans to retire at the end of this year was so impressed with our program that she would like to become a docent in the future.
Joining the ranks of our volunteers this fall are five very talented and knowledgeable individuals. Erika Dorbad, Nalleli Guillen, and Deirdre Lyons are history majors at New York University with concentrations in education and teaching. Carolyn Kreisman is an artist and experienced docent with a particular affinity for colonial food preparation. Finally, we welcome Christopher McGugart who holds a B.S. in secondary social studies education and has worked with children of all ages.
Warm greetings to our returning docents: Larry Bauman, Melvyn Birnbaum, Sheila Feivelson, Caroline Fuchs, Lauren Grant, Gillian Horn, Kait Medley, Marie Stango, Sami Steigmann, and Emily Westervelt. No doubt our great team will provide exceptional programming for children and adults throughout the year. Welcome, everyone! The Education Department looks forward to the wonderful, enriching times to be experienced by all who pass through our doors.
Development News
photo courtesy of SRNY
In the next few weeks, you'll receive exciting news about our Capital Campaign. It will fund much-needed improvements at our five buildings, the gem of which is 54 Pearl Street. Located in the Stone Street Historic District, the Fraunces Tavern® complex is as historically significant as Independence Hall, Philadelphia, and the Paul Revere House, Boston. Funds will be used for critical repairs to the framework of our buildings, including roofs, walls, and foundations. Please keep us in mind as you plan your year-end giving through corporate gifts, matching grants, and those all-important personal contributions.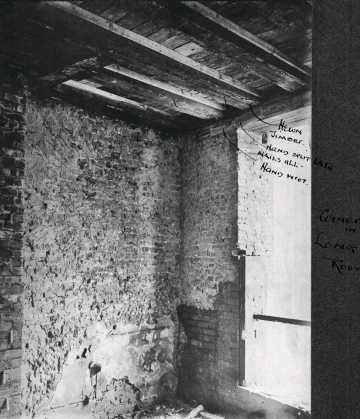 photo courtesy of SRNY
Color Guard Corner
Grateful thanks to the nine Color Guard members who participated in the Nathan Hale commemoration on Sept. 22: SRNY President John Mauk Hilliard; Capt. Jonathan Ridgeway (CG Chairman); Fred Baker; father and son Jack Coneys and Michael Coneys (Nathan Hale event chairman); Philip Coombe III; George Owen; Floyd Smith Sanford, III; and SRNY Treasurer Donald Westervelt. You made the event extra-special, as always!
Welcome!
A hearty SRNY greeting to our new member Michael Stuart Ferrera, Jr. His ancestor is Johannes Van Deussen.
Around Town
Our friends at the Knickerbocker Chapter, DAR, and their sister Quassaick Chapter (Newburgh, NY) would like to invite SRNY members and friends to a joint DAR chapter event at the U.S. Military Academy, West Point. On Nov. 1, rivals Army and Air Force will heat up the gridiron with a great football game! This is a fine way to support our national defense in a patriotic and historic location. For information on tickets and kick-off time, click here.
Thank You, Readers!
We began publishing The Patriot in Nov. 2007, and this is our 12th issue! What a pleasure it's been to report all the good news from SRNY/FTM. You've been wonderful readers; your encouragement has made this a labor of love. Please continue to send us your comments and tell us how we're doing. Next month, you'll receive our first anniversary edition, packed with news and a few surprises.
— The Editor
Remembering Nathan Hale
photo by Maria Dering
In the shadow of historic City Hall, the Sons of the Revolution in the State of NY welcomed civic dignitaries, school children, and honored guests to the 232nd anniversary commemoration of the execution of Nathan Hale. This year's stirring ceremony on Mon., Sept. 22, began at 12 noon with the posting of America's colors by the Veteran Corps of Artillery Color Guard. Master of ceremonies Michael Coneys, a member of the SRNY Color Guard and Board of Managers, next invited the Color Guard to advance the fine collection of SRNY historic flags from the Revolutionary War era. Chaplain Christopher M. Cullen gave the invocation, Color Guard Capt. Jonathan Ridgeway led the Pledge of Allegiance, and Deborah Shull, an SR favorite, led an enthusiastic rendering of our national anthem.
The ceremony continued with the Hon. William Castro, Manhattan Borough Commissioner, NYC Dept. of Parks & Recreation, reading the Mayor's Proclamation for the day. The heart of the program was presented by two very special groups: the P.S. 164Q School of the Arts Chorus (Flushing, NY) and Class 5-328, P.S. 124, The Yung Wing School (Manhattan). Led by Choral Director Lucie Evens, the P.S. 164Q Chorus sang several moving songs, two of which had lyrics specially adapted to the life of Nathan Hale. The students from the Yung Wing School, whose teacher is Mark Dunaway, read heart-warming original works, including a poem, an essay, and a mini-skit.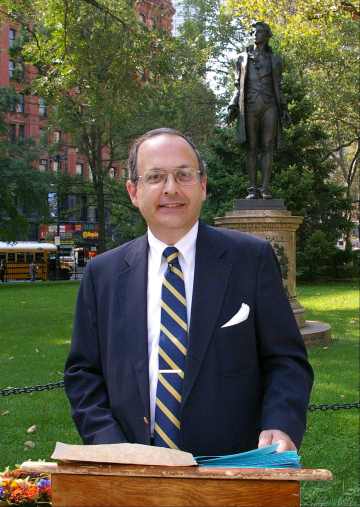 photo by Maria Dering
At the close of the event, J. Scott Glascock, Director of the Yale Club of New York City, placed a wreath on the statue of Nathan Hale (Frederick MacMonnies, 1893) that watches over City Hall from a lush rolling lawn. Additional wreaths were laid by Brigadier General David J. Ramsay, Commandant, Veteran Corps of Artillery; Jonathan Ridgeway; and Beverly York, site administrator of the Nathan Hale Homestead in Coventry, CT, accompanied by World War II veteran Clarence O'Crowley (3rd Infantry Regiment, the "Old Guard"). Fr. Cullen led a prayer in memory of Nathan Hale and the colors were retired for yet another year.
photo by Maria Dering
The SRNY wishes to give special thanks for their assistance to Cecelia Mahnken, SRNY; to the New York City Dept. of Parks and Recreation; and to the staff of City Hall Park. If you would like a history of the Nathan Hale statue in City Hall Park (.pdf), please email mariadering@earthlink.net.
Calendar
Thursday, October 16, 2008 at 6:30 p.m.: Dr. Philip J. Briggs "Benjamin Franklin, Ambassadeur Extraordinaire." Flag Gallery; $6 admission (includes refreshments); free for Museum members.
Tuesday, October 21, 2008 at 12:30 p.m.: New Book! Dr. John Fea The Way of Improvement Leads Home: Philip Vickers Fithian and the Rural Enlightenment. Free with museum admission: $4/$3 students and seniors. Museum members always free.
Thursday, October 30, 2008 at 6:30 p.m.: New Book! Edwin G. Burrows Forgotten Patriots: The Untold Story of American Prisoners During the Revolutionary War Flag Gallery; $6 admission (includes refreshments); free for Museum members.
Thurs., Nov. 20 at 6:30 p.m.: Barnet Schecter Returns! Flag Gallery; $6 admission (includes refreshments); free for Museum members.
Sat., Nov. 22, 12 noon: A Parade Most Patriotic City Hall Park to Historic Battery Park; free. Join us in the line of march! Call 212-425-1776.
Mon. Nov. 24, 6:30 p.m.: A Gala Evening Not to Be Missed Evacuation Day Dinner at 54 Pearl Street; reservations required. Call 212-425-1776.
Tuesday, December 9, 2008 at 12:30 p.m.: New Book! Thomas M. Truxes Defying Empire: Trading with the Enemy in Colonial New York Free with museum admission: $4/$3 students and seniors. Museum members always free.
Thursday, December 18, 2008 at 6:30 p.m.: New Book! Dr. Paul Lockhart The Drillmaster of Valley Forge: The Baron de Steuben and the Making of the American Army Flag Gallery; $6 admission (includes refreshments); free for Museum members.
Thurs., Feb. 19, 2009: George Washington's Birthday Ball Metropolitan Club; invitations to be mailed soon.
Click
here
for Museum event details. For a complete calendar of SRNY events, click
here
.