Greetings from the President
One of my favorite events on the SRNY calendar is Flag Day, which we'll celebrate in this year on Friday, June 13, when we mark the 231st anniversary of the adoption of the American Flag by the Second Continental Congress (June 1777). The festivities begin at noon outside City Hall Park (Broadway at Park Place) and wind through the historic streets of Lower Manhattan. Expected to march in the parade are civic leaders; the NY Police, Fire, and Sanitation Departments; corporate representatives; school groups; officers and members of patriotic and lineage societies; and, of course, our own Color Guard and members. Following the parade, a stirring outdoor ceremony will entertain one and all with prize-winning addresses and patriotic song.
My special thanks those who have supported and participated in our Flag Day observances in the past, and to those who will march with us this year. If you would like to make a contribution, please contact Margaret O'Shaughnessy. Your generosity will help to defray our expenses for this event. You might also like to consider becoming a Flag Day volunteer to organize the line of march, check in participants, and help along the route. Show your allegiance to our flag and our nation by joining us on June 13th. But if you cannot be with us, be sure to display the flag at home and in your office. And don't forget to wear your American Flag lapel pin!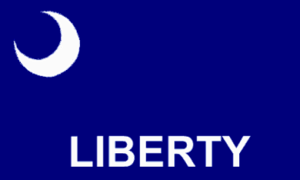 I'd like to take just a few moments to update you on my activities on behalf of the SRNY. During May, my travels took me to New Jersey where I attended the following events. At the Nassau Club: a meeting of the Princeton chapter of the Jamestowne Society (May 6) with speaker Dr. George J. Hill (SRNJ), and the annual court of the Society of Colonial Wars in the State of New Jersey on the same night. On May 27, also in Princeton, I attended the community celebration of the 225th anniversary of that city's five-month tenure as capital of the United States (1783). Venues for the celebration were the Governor's Mansion (Drumthwacket) and the former Governor's mansion, now the Morven Museum.
Closer to home, I represented the SRNY at the centennial commemoration of the Laymen's Club at the Cathedral of St. John the Divine on May 4 and, later that day, attended the spring garden party hosted by the Colonial Dames of America (CDA) at the Mount Vernon Hotel Museum & Garden on East 61st Street. It is always a pleasure to enjoy an evening with these distinguished women who are active not only in the CDA, but in many lineage societies across the country. On May 5, I represented the SRNY at the New England Society spring reception and tea dance at the Racquet and Tennis Club and, two days later (May 7), was pleased to see many old friends at the annual luncheon of the Daughters of the British Empire at Tavern on the Green. On May 22, I represented the SRNY at the Spring Stated Meeting of the St. Nicholas Society; this is always a wonderfully convivial event.
It was also a great pleasure to take part in many preservation-oriented activities. On May 8, I attended the panel chaired by Anthony C. Wood, Secretary and Executive Director of the Ittleson Foundation, at St. Mark's in the Bowery Church; a week later, on May 16, I was honored to attend the presentation of the Salmagundi Club medal of merit to Alexander Katlan, the conservator who has restored many of our Dunsmore collection paintings with such skill and sensitivity. On May 23, I toured Hamilton Grange in Upper Manhattan (currently at 287 Convent Ave.); this National Memorial (and former country home of Alexander Hamilton and his wife, Elizabeth Schuyler) is about to be moved to St. Nicholas Park and will re-open in 2009.
Finally, it was a joy to march in the largest Memorial Day parade in the country, in Douglaston, Queens, NY. Our Color Guard Captain, Jonathan Ridgeway, always organizes an enthusiastic cadre to carry our historic flags and represent the SRNY in fine style.
Looking ahead to June, I plan to attend the New York Preservation Archive Project event at Fraunces Tavern Museum and Battery Gardens Restaurant on June 10; the annual birthday celebration for Her Majesty Queen Elizabeth II (a combined effort of more than ten societies) at the Racquet and Tennis Club on June 11; and the Jamestowne Commemorative Midsummer's Eve Garden Party at the Mount Vernon Hotel Museum and Garden on June 19. (See the invitation later in this newsletter.) I'm sure I'll see many of you at these events and look forward to greeting you here at the Tavern and around town.
Yours aye,
John Mauk Hilliard, President
Museum Education Update
Meet Our Docent: Larry Bauman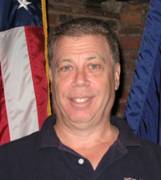 photo by Jennifer Patton
When Larry Bauman first applied to volunteer last fall, he said he was willing to help out in any capacity. He has gone above and beyond the call of duty over the past nine months not only by leading Saturday public tours almost every week, but also by helping with the school program and assisting the Museum Director with collection assessment. Thanks to Larry and a few other dedicated docents, the Saturday tours have become a success! One visitor even wrote a thank-you note for an excellent tour, describing Larry as one of the best docents ever.
Having taken a course in museum studies at New York University as well as an internship at the New-York Historical Society, Larry came to FTM with an abundant knowledge of the American Revolution and New York City history. Both subjects grabbed Larry's attention at a young age. He enjoys sharing his interests with others while trying to learn more about colonial New York. After working with a large institution like N-YHS, why did Larry choose to volunteer with us? As he said, we
offered the best position. Volunteers in bigger places seem so peripheral. Here, I can help out in an up-front way as a docent. I feel like a staff member -- involved and working with everyone.
Larry's willingness to help with the school program during our busy spring season is also quite a rarity, but very much appreciated.
I enjoy working with different types of groups, but at first I found the kids to be much more intimidating! Still, after you figure out how to talk with them — and when you know you know you've gotten a point across — it can be very rewarding.
For the Museum, it has been rewarding to have Larry become part of our family. His enthusiasm and energy have done so much for our institution in such a short time. We hope Larry continues to get the most out of his experience here as he shares his love of history with people of all ages.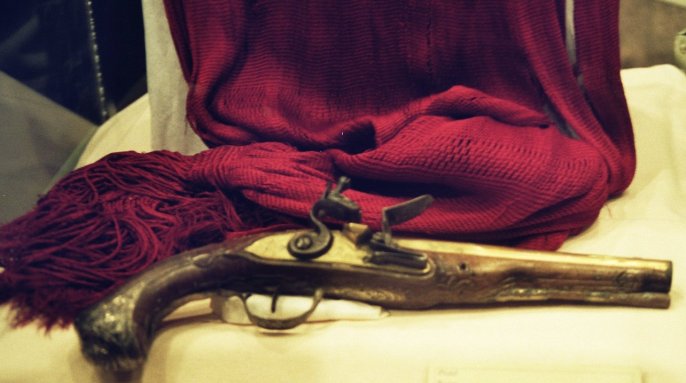 photo by Douglas Kiddie
June Quiz
On loan to the New-York Historical Society through Aug. 10 is the Lafayette Sash. For what was it used, and who used it? The answer will appear in July. For the curious or impatient, email your editor (mariadering@earthlink.net) to get the answer.
Answer to the May quiz: Your editor has learned that what was thought to be a Revolutionary War-era flag is actually much newer. Because the flag in question (lead photo in our May newsletter) shows evidence of machine stitching, it is thought to date from the 1850s, based upon an expert examination. An interesting fact! Be sure to see for yourself on your next visit to the Flag Gallery.
Fraunces Tavern® Now a National Landmark
What a cause for celebration! The National Parks Service in Washington, DC, though the New York State Office of Parks, Recreation and Historic Preservation, recently conveyed great news to the Executive Committee of the SRNY Board of Managers: Fraunces Tavern has been added to the National Register of Historic Places! The Executive Committee wishes to thank Andrew Dolkart, James Marston Fitch Professor of Historic Preservation - Graduate School of Architecture Planning & Preservation, Columbia University; SRNY Museum & Art Committee Chair Dr. Laurence S. Simpson; Real Estate Committee Chair Robert N. McKay; Executive Director Richard A. Gregory; and all assisting members for their outstanding and indefatigable efforts in support of this great honor.
Congratulations!
Three rousing cheers to Executive Committee Chairman Charles C. Lucas, M.D., who was recently elected to the following top offices in two prestigious patriotic organizations: Commandant of the Veteran Corps of Artillery, State of New York, and President, Military Order of the War of 1812. Dr. Lucas was also greatly instrumental in gaining National Landmark status for Fraunces Tavern. We salute you and say HUZZAH!
A warm welcome!
The following were elected to membership at the Board of Managers meeting on May 19, 2008:
Daryl V. Verstreate, Jr. - ancestor: Thomas Beadle, Jr.
Junior Member Jason Vadhan - ancestor: Sgt. Joseph Stearns.
Ave atque vale
We bid farewell to our recently deceased members:
H. Fraser Gurley, Jr. - Member since 1985 and former member of the Board of Managers and the Real Estate Committee
Donald H. Henderson - Member since 1964
Gale Thomas Howe-Cornwell - Member since 1998
We extend our heartfelt gratitude and thanks for their loyal service.
Flag Day Reminder: Fri, June 13
Start time: 12 noon
Place: City Hall Park, Broadway at Park Place.
SRNY Contact: Margaret O'Shaughnessy or 212-475-1776.
Marchers: Please arrive early and check in. Volunteers will help you find your place in the line of march.
More info: See President Hilliard's Greetings in this issue for a full summary of the day's events.
Don't miss this great annual event!
Calendar
This summer, 54 Pearl St. will undergo some exciting (and vital) renovations. Be sure to confirm all events listed below or call 212-425-1778 in advance of the event.
Special Event!
Candlelight Walking Tour of Revolutionary War New York
This tour starts at 2 a.m. on Friday, July 4 and ends at 6 a.m. on Friday the 4th.
For the sixth year in a row, join veteran walking tour guide James S. Kaplan and learn little known facts about important Revolutionary War heroes buried in Lower Manhattan. You will also experience what life was like for colonists living in New York during the period by visiting important Revolutionary War sites.
Tickets are required: $20 ($15 for members). Mail your check made out to "Sons of the Revolution in the State of NY" to July 4th Walking Tour, Fraunces Tavern Museum, 54 Pearl Street, NY, NY 10004, or log on to www.FrauncesTavernMuseum.org to buy your tickets online!
June 3: New Book! Alexander Katlan, Painting Exhibitions at the Salmagundi Club. This lecture focuses on the Dunsmore Collection of paintings. Flag Gallery,12:30-1:30 p.m. Free with Museum admission ($4/$3 students, senior citizens); members free.
June 13: Flag Day Parade and Ceremonies, 12 noon to 5 p.m. Parade steps off at City Hall, 12 noon, ends at 54 Pearl Street with essay contest winners reading their works, a concert of patriotic music, and stirring remarks from special guests.
June 19: New Book! Nancy Rubin Stuart, The Muse of the Revolution: The Secret Pen of Mercy Otis Warren and the Founding of a Nation. Flag Gallery, 6:30 p.m. Free to members; general public $6. Refreshments provided.
July 4: Independence Day Open House. 12 noon - 5 p.m. Free admission all day. Celebrate America's birthday with us!
July 8: New Book! John T. Cunningham, The Uncertain Revolution: Washington & the Continental Army at Morristown. Without New Jersey's Watchung Mountains and the towns around Morristown, would the American Revolution have succeeded? Would Washington's army have survived? Come and learn the answers to these and other fascinating questions. Flag Gallery,12:30-1:30 p.m. Free with Museum admission ($4/$3 students, senior citizens); members free.
July 15: Highlights of the July 4 Candlelight Walking Tour. James Kaplan gives a condensed armchair version of his all-night walking tour. Flag Gallery,12:30-1:30 p.m. Free with Museum admission ($4/$3 students, senior citizens); members free.
July 24: New Book! Anthony C. Wood, Preserving New York: Winning the Right to Protect a City's Landmarks. Hear the story of the people and places, the buildings and battles that led to the creation of a legal mechanism to protect New York's landmarks. Flag Gallery, 6:30 p.m. $6 (members free) includes museum admission and refreshments.
A Midsummer Invitation
On June 19, eight major lineage societies -- including the SRNY -- will host their 2008 Midsummer Eve Garden Party in honor of Historic Jamestowne. SRNY members, associates, and friends are cordially invited to attend this wonderful outdoor event; see the invitation below. However, because space is limited, advance reservations (along with your payment) are required. Please download the invitation (2.1MB) print it out and complete the reply coupon and mail it with your check to the Colonial Dames of America at the address indicated.
Battle Week Events (August 2008) will be posted in our July e-newsletter and online.
Color Guard Corner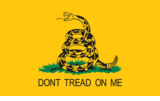 With summer just around the corner, we'd like to remind CG members to order and wear their warm-weather polo shirts — elegant navy blue trimmed in white, carrying our striking 4-color emblem. $50 buys you this fine addition to your SRNY uniform; contact CG Treasurer Steven Trusnovec for more information or to place your order: P.O. Box 241, Yaphank, NY 11980. Make your check payable to CG of SRNY.
Memorial Day 2008 Parade
For the fifth consecutive year, it was a pleasure and an honor for the CG, SRNY, to celebrate the memory of America's service men and women by leading the Second Division of the 81st annual Little Neck/Douglaston Memorial Day Parade, the nation's largest. Marchers stepped off at 2 p.m. after a delicious lunch at the ever-popular Scobee Grill, a Little Neck landmark. Our CG was well represented by NY Society President John Mauk Hilliard, Color Guard Captain Jonathan Ridgeway, Color Guard Treasurer Steven Trusnovec, his son Nicholas Trusnovec, NY Society Secretary Alan Borst, Veteran Color Guard member Rev. Charles Wilcox III, Color Guard member George Owen and his son-in-law Mitch. Joining the Color Guard at the luncheon were Jonathan's wife Lynne, his aunt Phyliss Meth, and his friend Peter Arkin .
2008-09 Ordered Duty:
Flag Day: Fri., June 13
Nathan Hale Memorial Wreath Laying: Mon., Sep. 22
CG Event Calendars were mailed to active members recently, but if you need another, please call Jonathan Ridgeway, Chairman of the Color Guard, SRNY, at (845) 883-7908. Certain events are designated as alternatives to ordered duty; please see the calendar or call Capt. Ridgeway for more information.